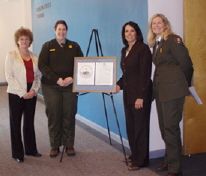 A message from Bonnie Hurd Smith:
People often come up to me and say,
"Oh, you're the women's history person."
Guilty as charged!
I have been involved in women's history as a student, author, or public educator for over 20 years, and I continue to find it inspirational, thought provoking, and incredibly relevant. I delight in telling women's stories, especially while I'm leading tours through their historic neighborhoods or visiting their homes.
I have served as executive director of the
Boston Women's Heritage Trail
, I created a similar trail in
Salem, Massachusetts
and a themed trail on Boston Women & The Law, I was president of the
Sargent House Museum
in Gloucester, Massachusetts (Judith Sargent Murray's home), and I am the acknowledged expert on
Murray
.
I have worked with historic sites to
reinterpret their tours
for women's history, I served on the board of the National Collaborative for Women's History Sites, and I created a traveling display on
Margaret Fuller
for her Bicentennial year in 2010.
Visiting New England?
If you are visiting New England,
you can learn more about New England women's history here
and
contact me
for a tour of sites in Massachusetts.
You can learn more about my guided tours here.
Want to know more?
You can purchase my books here.
Or, read about the inspiring talks I give here.
Or, sign up for my free report on the economic benefits of a women's history trail!
Thanks for stopping by!
Bonnie