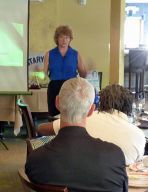 Thanks for stopping by!


I am pleased to offer you these free reports, described below, but please also scroll down the page to subscribe to our ezine,
Connections
, where I offer free tips EVERY WEEK on using history to market your business!
Please
contact me
to discuss how history can work for you, and be sure to visit
our Store!
Thanks again for visiting!
Bonnie Hurd Smith


3 Ways Your Business Can Benefit
from Supporting Local History

You've probably written a check in the past to support a historical organization, a preservation project, or a history-related community event. But have you considered all of the BUSINESS benefits that could come your way from really getting involved? In this special report, Bonnie Hurd Smith looks at how you can build customer loyalty, attract new clients, and secure your reputation as a local hero -- all through local history. Bonnie is a skilled marketer, PR professional, event planner, and fundraiser, who has also worked in the historical community as an administrator, board president, or board member. She knows how "both sides" work, and believes strongly that for-profits and nonprofits need to form new, mutually beneficial partnerships.

The Benefits of a Women's History Trail —
Fun AND Profit!
How can your business, community, and nonprofits benefit economically from a creating a history trail? Find out in this free report by Bonnie Hurd Smith, which looks specifically at women's history trails
but the concepts apply to any kind of history trail.
Bonnie has created several walking trails in Massachusetts, and consulted on even more. Here, she shares her unusual expertise.