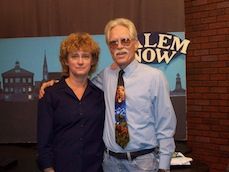 History Smiths was launched in May 2010 by Bonnie Hurd Smith to help businesses and organizations attract attention, customers, a trustworthy reputation, and a personal sense of fulfillment by thinking about and using "history" differently.
"History is a source of information and inspiration that can have a profound impact on people professionally and personally," Bonnie says, "and I love finding the right match for people — the right opportunity to make that transformation happen."
As a historian and author, Bonnie's work is grounded in impeccable historical research and she is able to call upon her vast network of colleagues in the historical community to assist History Smiths' clients. As a marketing, PR, and event planning professional, she is also able to spot the opportunities the research reveals.
History Smiths' work has been called innovative, imaginative, and smart because they have a new approach to marketing and PR that works. They offer their specialized services to clients directly, through information products, through Bonnie's public speaking engagements, teleseminars, and programs, or to leading PR and marketing companies as part of their team.
History Smiths' clients tend to be very successful people who want to make a difference in the communities they serve. Getting involved in history achieves this goal — and the resulting personal fulfillment and legacy-building is powerful.
History Smiths' core consulting services include:
• History audit of the client's business
• Historical research
• Personalized marketing/PR plan to take advantage of the opportunities presented by the research
• A history of the business


History Smiths also offers:

• Inspiring History Talks to benefit
your business or organization
• Business Talks for your business
organization
• Business Histories and Anniversaries
(including Family Businesses)
• Business Development
• Historical Events
• Community Celebrations
• History-related Marketing Materials
Products include:
• Ebook: Go Beyond the Party: 11 Simple Ways to Build Business Momentum (on making the most out of a business anniversary)
• Ebook: 10 Easy Steps to Create a Women's History Trail in One Year (which shows how to derive the highest economic benefit for everyone involved, businesses, communities, and nonprofits)
• Ebook: A Source of Pride: A Historian's Guide to Doing Your Business History
Coming Spring 2011
• Ebook: Customers, Loyalty, Reputation: 9 Proven Marketing Strategies to Let History Boost Your Business
Coming Spring 2011
• Ebook: Special Event Planning 101: Strategies and Tips from the Field
Coming Spring 2011
• Ebook: Find the Opportunities! How to Do a History Audit of Your Business
Coming Spring 2011

• Blueprint System: Stand Out from the Crowd: Your Blueprint for Using History in Your Branding
Coming Summer 2011
What else?
History Smiths also publishes informational Articles and Special Reports on their website, and a weekly ezine with free tips, success stories, and inspiring stories from history.

Brief background
Before starting History Smiths, Bonnie was the principal of Hurd Smith Communications, founded in 1990, which provided services in the areas of event planning, public relations, marketing, fundraising, writing, and graphic design. Today, Hurd Smith Communications is the publishing arm of History Smiths, publishing the company's ebooks as well as Bonnie's books on historical subjects.
History Smiths' clients
Thank you for visiting!